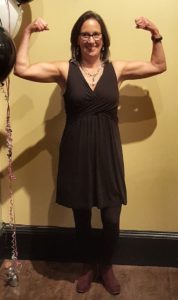 Four months after hip surgery I needed to get back into running shape. The "little black dress challenge" on the AFC page caught my eye. After trying the group training I was hooked. The group of ladies welcomed and encouraged me the first day and every day since. There is never a dull moment during the workout, especially with me boxing.
What I really like about the group are Karen and Tom's workouts are always different including stations with boxing. This isn't a group class, it is a training groups as they both instruct us on correct form. Since joining, I have lost pounds, my clothes fit better, and I've gained strength resulting in I'm back to being a stronger and faster runner. Once you try it, you will be hooked!
Enthusiasm! That is what Tom and Karen have. I attend an evening class and I am tired when I arrive. Yet, working all day I am amazed at the enthusiasm, humor, craziness, and humor they have. They energized the group for the intense 45 minute training!
Liz Allard