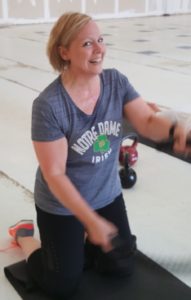 When I started training with Karen, I was afraid to walk into the gym. I was intimidated and didn't know how to use any of the equipment. AFC and especially Karen made me feel like I belonged and very soon I actually felt confident and knew what I was doing. I lost weight, toned up, went off medication, and felt good in my clothes again.
Through two major surgeries, Karen has accommodated my recoveries in her classes so that I could keep working out. The women in the classes are so encouraging and supportive. The atmosphere in Karen's groups is fun, but she pushes us all far beyond what we could or would do on our own.
The classes are carefully planned and not just thrown together—and even when it's hard, which is every class, I get to experience it in great company!
Pam Eisenlohr Moul